April 10th, 2019 – Pure IP, a leading provider in global voice communications, is honored to be one of five shortlisted firms for the 2019 Internet Telephony Services Providers' Association (ITSPA) Award for the Best Multinational Solution. The Best Multinational Solution award recognizes companies within the telecommunications sector that have engineered a solution with international success.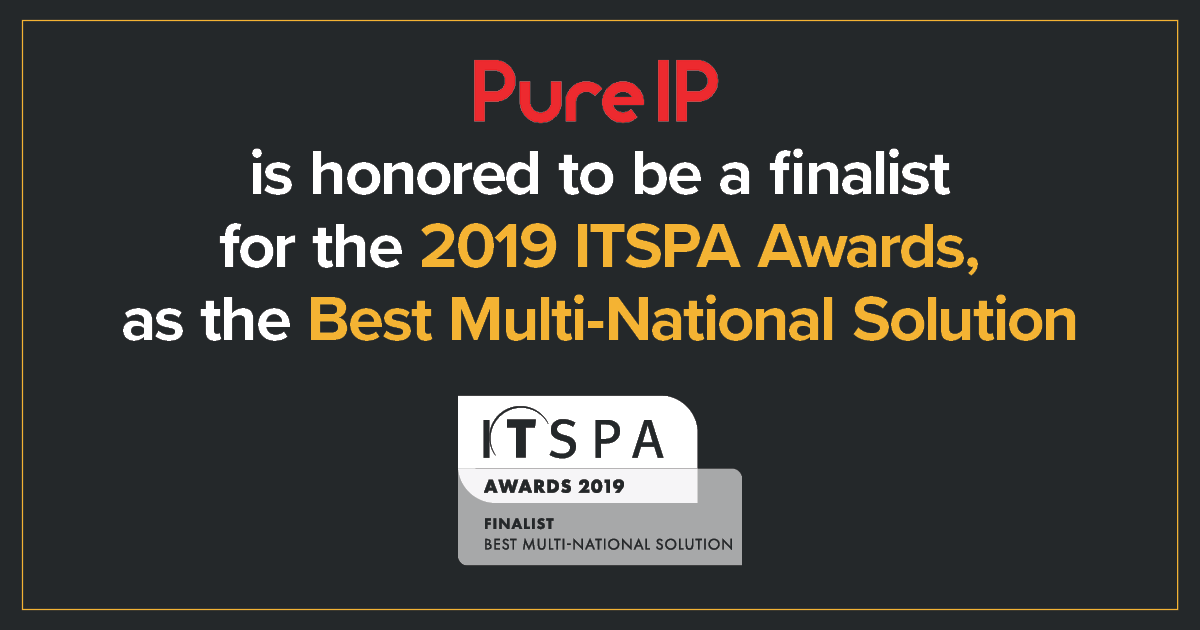 The criteria used to determine the shortlisted firms included a rigorous self-written assessment and case study in which Pure IP was required to demonstrate how our international SIP trunking and voice communications solutions have performed successfully.
In addition to proving the technical capabilities of our international voice communications, Pure IP was required to demonstrate innovation in the products and solutions designed and engineered by the firm, as well as the ability to tailor the solution to different countries and regions.
Lastly, as a part of the submission criteria, Pure IP was required to adhere to the international telecommunications regulatory requirements.
Pure IP has achieved success with multinational corporations via its philosophy of excellent, unmatched customer service and extensive (and continuously growing) coverage map. Due to the company's singular focus on voice communications, Pure IP has invested the necessary time and resources to establish relationships with dozens of carriers and countries across the globe, giving it the ability to provide customers like-for-like services of traditional PSTN telephony in 36 countries, as well as coverage of SIP trunking services in 90+ countries. The company is honored to be considered for this award.
In addition to being a shortlisted firm for the Best Multinational Solution category, Pure IP is also proud to sponsor the ITSPA Hero Award.
The 11th Annual ITSPA Awards Ceremony will be held on May 1st in London. Pure IP looks forward to attending the event, as well as seeing the outcome of the awarding.