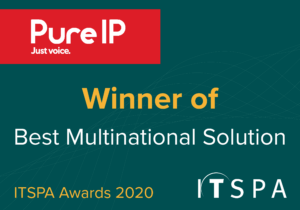 We are proud to announce that we have been selected as the winner for Best Multinational Solution at the 2020 Internet Telephony Service Providers' Association (ITSPA) awards. The 12th annual awards ceremony was hosted virtually this year by chairman Eli Katz on September 24th, 2020.
"We are honored and delighted to have been chosen as the winners of the Best Multinational Solution. It means a lot to us to be recognized by our peers and the industry for the work that we do," said Gary Forrest, CEO at Pure IP. "I'd also like to thank the team at Pure IP for all of their effort in building this multinational solution. It's not an easy task, and the world-class enterprise voice services we can provide today are the culmination of years of careful work guided by our customers' requirements."
The Best Multinational Solution Award is awarded to the service provider who has created the most successful, fully-featured corporate voice solutions available internationally. The winner must be able to provide their multinational customers with full PSTN replacement services, including nationally formatted numbers, while maintaining full compliance with international and local regulations.
As a service provider with a singular focus on voice communications, we have invested significant time and resources in order to establish relationships with the different in region carriers around the world that are needed to fulfil these criteria. An agnostic service provider, Pure IP can integrate with a wide variety of telephony, conferencing, and contact center platforms, which is a key requirement for many multinationals, who operate hybrid environments and utilize different communication systems. Our voice communications expertise is paired with a focus on customer service and an extensive coverage map, providing number coverage for over 90 countries and full PSTN replacement in an unrivalled 40 countries using our own SIP based network.