Microsoft Teams and Teams Phone continue to grow in popularity. Teams is now at 300M monthly active users, and over 5 million Teams Phone users have been enabled in the last 12 months, with many large enterprises having Teams Phone as their strategy.

A key benefit of Teams Phone is working from anywhere, on any device. Did you know when it comes to mobile phones (or cell phones for our American friends), you have a few different options with Microsoft Teams?

In this blog, we run down the options, including a new one.
The Microsoft Teams Mobile App for iPhone and Android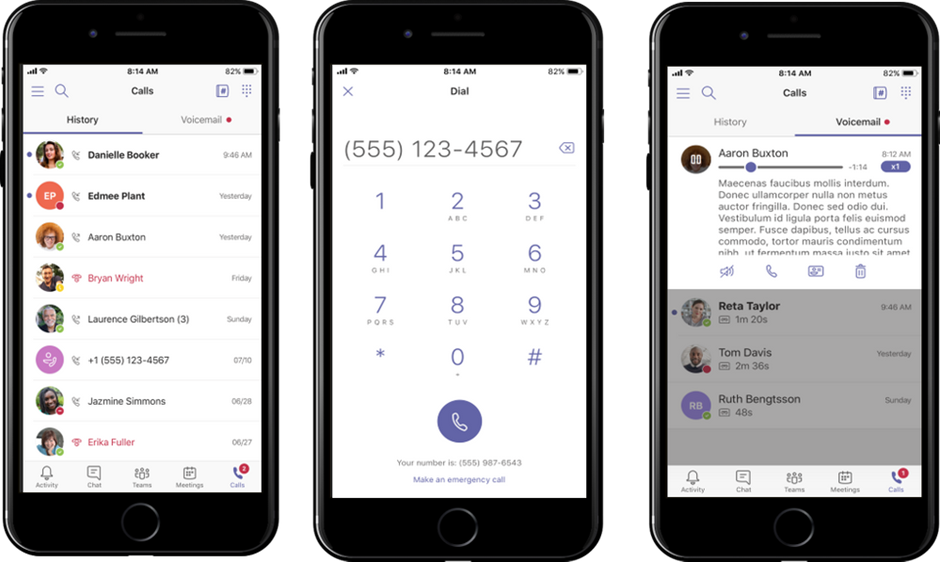 The number one way to keep productive on the move on your mobile is with the Teams mobile app. You can use it to join meetings on the move and make and take Teams Phone calls, all from within the app. The Microsoft Teams app works for Microsoft Calling Plans, Operator Connect or Direct Routing numbers. You get all the features of Teams Phone on the move.

The Teams mobile app has several great features:

• Collaborate in chat, channels and meetings
• Run your apps in teams
• Share content in meetings
• Set quiet hours for when you don't want to be disturbed

There is no additional cost to use the Teams mobile app. It is available to all Microsoft Teams users.
Teams Phone Mobile
"Teams Phone Mobile" is Microsoft's name for a service where partner mobile operators can offer you a single phone number that is both your "mobile" number and your "Teams Phone" number. i.e. it's a mobile number, an 07xxxx number in the UK, for example, that works as a normal primary mobile number on your mobile, but it's also your Teams Phone number. You can make and receive calls from your mobile, Teams on a desktop client, IP Phone, or even the mobile app.

You can answer incoming calls on your desktop and/or mobile via the native dialler or via the app if you prefer (set by user policy). Some of the benefits of Teams Phone mobile include:

• A single mobile number for all calls
• Single unified presence and voicemail
• "uplift" mobile calls to Teams calls seamlessly
• Unified compliance recording (if you have compliance recording setup for Teams)

Currently, Teams Phone Mobile is available from select operators in select markets. It must also be a primary business phone. It can't be a second phone number or used on a personal mobile phone.
Tango Extend, bring your Teams Phone number to your mobile via eSIM


The third and newest option is Tango Extend. Tango offer this in collaboration with the telephony operator to allow your Microsoft Teams Operator Connect or Direct Routing number to be "bridged", via Teams SIP Gateway, to an eSIM.

The eSIM provides a secondary SIM on the Phone, specifically to make and receive calls via the Microsoft Teams Phone number. In this scenario, no Teams app is needed. The phone calls are made and received via the mobile's native dialer. Calls made and received all route via Microsoft Teams, providing a single unified presence, voicemail and compliance recording if it is enabled on the tenant.

Tango Extend is an interesting option for people who want to bring the Teams number to a user with a personal/BYOD device, allowing them to make and receive business calls without any app needed.

Benefits include:

• Use the mobile native dialer with no app needed
• Extend your fixed line number to your mobile device
• Phone calls are made over the mobile network, so there is no need for good mobile data or Wi-Fi connection
Which mobile solution is best for your Microsoft Teams users?

Now you know all the options, which is the best solution for your users?
The choice will come down to both user experience and availability. While the Teams mobile app is available to all users globally, Teams Phone Mobile, the service, and Tango Extend are only available from specific operators and in specific markets.
The good news is you can mix and match any combination of these solutions for your users on a per-user basis.
If you want to understand how the three solutions work in more detail, ask us any questions or want advice on which is the best option for your users, please contact our team, who will be happy to help.