Pure IP, a world leading provider of business voice communications, is pleased to announce that our cloud telephony solution, SeRVE, has been certified as Atos-Unify Ready. This certification confirms that Pure IP's SIP-based voice network is interoperable with Atos-Unify's OpenScape Voice PBX and OpenScape Session Border Controller (SBC).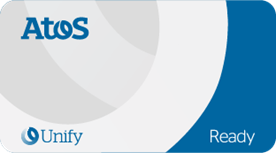 Extensive testing was performed to ensure that Pure IP could integrate our voice network with OpenScape Voice, including to ensure that OpenScape Voice internal subscribers were enabled to make/receive external PSTN calls and utilize IP-PBX telephony features.
"As the UC market continues to rapidly evolve, the demand for greater interoperability and ease of management between old and new systems becomes more important than ever." said Gary Forrest, CEO at Pure IP, "We have always taken an agnostic approach, and I'm proud that we continue to further our capabilities for integration, and can now offer our customers a robust integration with another platform."
"We are delighted to be certified as Atos-Unify Ready," continued Forrest, "The integration between our voice network and the Unify OpenScape platform will benefit customers, as they seek flexibility and operational efficiency of a single connected communications service."
Pure IP's SeRVE is a fully managed global telephony solution that provides secure, resilient voice for enterprises. The solution combines the strength, scale, and reach of Pure IP's own cloud-based voice network, with the speed and flexibility of our managed services, and 24/7 support from our team of expert voice engineers.
Alessandra Skarlatos
Alessandra joined Pure IP as the Content and Communications Manager in early 2020, after 5 years within the cinema technology sector.