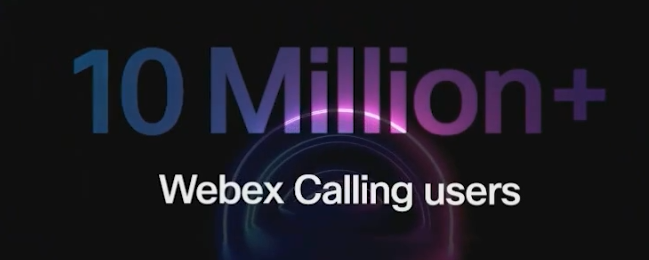 At the recent Enterprise Connect event, Cisco announced 10 Million+ Webex Calling users and 102% growth year over year for their Webex Suite.

Here are the top 5 announcements they made coming to Webex in 2023.
1. Video super resolution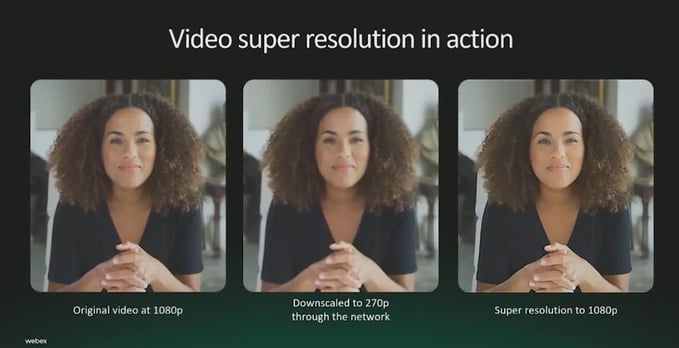 One of the most impressive innovations at the show. Cisco showed how they could take a downscaled video and use AI to upscale it to "super resolution" at 1080p.

Why is this so exciting? It means you can achieve a HD experience but with way less bandwidth.

They gave a demo of a 1080p video downscaled to 270p, to use minimal bandwidth across the network, before being upscaled by the client on the other end. In fact, the optimise video is even better than the original.

Since the AI is optimising the video it means great video quality even with poor cameras and no choppiness even in poor bandwidth scenarios with packet loss.

AI can also optimise lighting with their Smart Relighting feature. Optimising your video lighting dynamically when you are in a bad lighting conditions.
2. Cinematic meetings
Imagine having multiple cameras capturing different angles in a meeting and having your own personal director picking just the right shot. Now you can have that experience, AI powered, with Cisco Webex Cinematic meetings.

Cisco Cinematic Meetings is powered by RoomOS that provides an optimal view of any meeting at any moment. It uses AI to dynamically change the view of the meeting, just like a movie director transitions between shots and scenes. The camera follows individuals through voice and facial recognition, automatically switching views to capture the best angle of the active speaker.

Check out a great demo of the experience here

Meeting Zones were also announced. With meeting zones, people are individually framed in a condensed view – leaving any blank space out of the view. Only people that are inside defined boundaries are included in the meeting. This means meetings in busy spaces, open spaces or offices with glass walls only frame the people you actually want to see.
3. Multi-platform support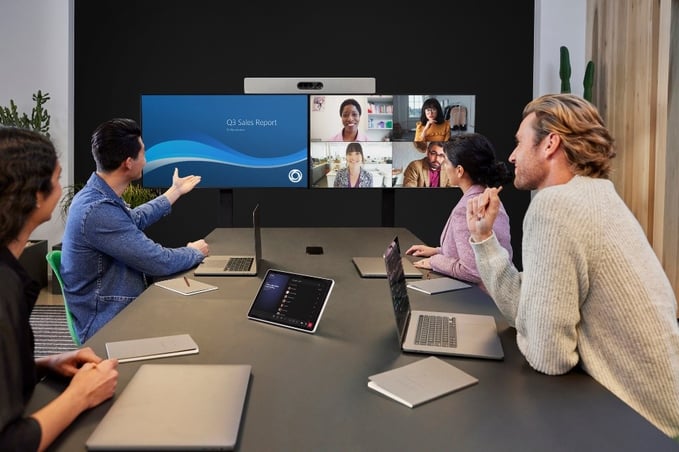 Cisco commissioned customer research and found 85% of customers used 2 or more meeting platforms. Cisco announced their first Microsoft Teams Certified devices, and demonstrated joining a Microsoft Teams meeting and then a Webex meeting from the same UI experience. Further, in Webex mode Cisco devices can join Webex, Zoom, Google Meet and Microsoft Teams.
This multiplatform capability is achieved using open standards and protocols, such as SIP and H.323 and WebRTC, which allow the devices to communicate with other video conferencing systems regardless of the platform they are using. This means that users can connect and collaborate with colleagues and partners who may be using different platforms, without the need for additional hardware or software.
4. Webex A.I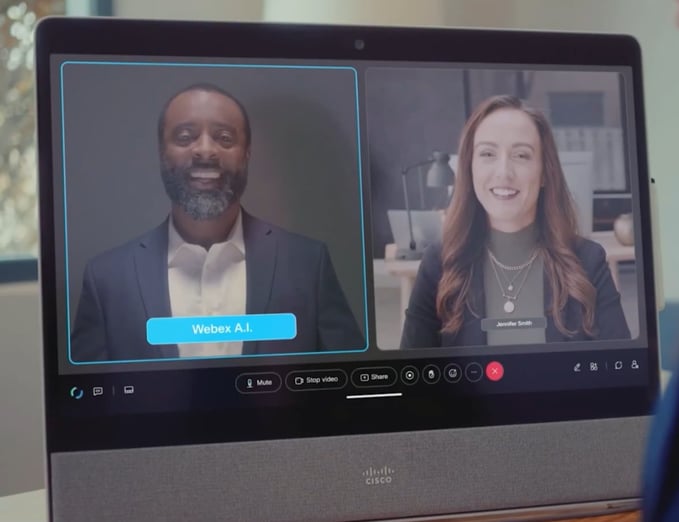 Cisco explained how they are innovating with AI. They gave us a glimpse of the future with a vision video of a Webex A.I. assistant, who is interactive with audio and video. It helps summarise meetings, push back meetings, send action items to users and remind you of your upcoming schedule. That is a look into the future. No timeline was given.

Cisco are using AI today for audio and video optimisation. Cisco's audio intelligence, its background noise removal technology has removed over 96 billion minutes of background noise. Now they are bringing that capability to PSTN calls with Webex Calling, so users on both ends of the call be heard clearly.

Cisco are also looking to use AI for meeting summaries. Generating meeting recaps, task, notes and chapters to help you quickly get up to speed.
5. Webex Contact Center
Cisco's cloud contact center got 4 great announcements to drive improvements in customer experience.

Actionable insights: Topic Analysis in Webex Contact Center surfaces key reasons customers are calling into the contact center. It aggregates call transcript data from the contact center and models trends succinctly for business analysts.

Agent Answers as a real-time agent coach:  Agent Answers listens and acts as a real-time coach for the human agent, surfacing knowledge base articles and helpful information the agent can instantly provide the customer. 

Automated chat summaries for agents:  AI-powered chat summaries eliminate the need for agents to read lengthy chat histories with customers to determine issues and resolutions already explored.

Automated code for rapid customization of customer journeys: With the help of AI, Users will be able to simply describe the function they want to perform, for instance, "verify an email address," and receive the corresponding code immediately. This simplifies the process of swiftly creating and refining customer experiences.

Pure IP are really excited for the innovations Cisco Webex is bringing to customers in 2023 and are proud to be a Cisco Certified Cloud Connect Calling partner able to bring customers global PSTN connectivity for Webex Calling and Webex Contact Center. If you would like to learn more about optimising your Webex experience, get in touch.