Zoom has unveiled a new brand logo to show that they're more than just a video conferencing platform, with a specific nod to their Phone capabilities.
An adapted version of the logo has turned Zoom into Zoooooom, where each 'o' represents one of six core elements of the platform - Team Chat, Phone, Meetings, Rooms, Events and Contact Center. The modifications reflect nearly a decade of evolution for Zoom, which started as a video meeting app and has progressed into an expanded product offering to meet the communication needs of the hybrid workplace.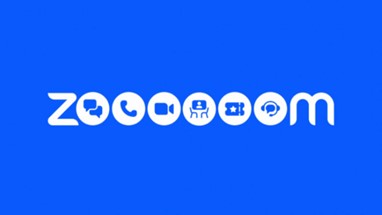 In addition to the brand update, Zoom has also announced new product features including Zoom Phone Local Survivability. Designed with large organizations in mind, this new module ensures that businesses retain access to critical features in the event of an outage. That module offers an additional level of protection and security for organizations whose telecoms infrastructure is mission-critical to key functions of their business. It launches in conjunction with Zoom Node a hybrid platform designed to host a variety of modules and enable their deployment. Zoom Node works by virtually connecting the Zoom cloud to customer data centers and provides convenient auto-updates when connectivity is restored.


The evolution of Zoom Phone, both technically and from a brand perspective, reflects the company's ambition to cement their place as a key player in the cloud-phone arena. And the latest growth figures are showing sky's the limit for the platform which has now surpassed 4,000,000 seats. In the last quarter alone, Zoom Phone sold 700,000 licenses across a variety of industries including retail, financial services, tech and healthcare. These figures show impressive growth, given the cloud-phone solution only launched 3.5 years ago.

The range of updates to Zoom Phone follows on from their launch of Phone Provider Exchange earlier this year. Phone Provider Exchange offers a new way to add PSTN calling to Zoom, allowing users to easily select third-party carriers and connect with them through the Zoom App Marketplace. Once connected with a provider, customers can self-manage and provision numbers from within the Zoom tenant.
There are a few key advantages of Phone Provider Exchange including, access to wider geographic coverage, access to additional communications services and probably the main one benefit, potential cost-savings. For more information, view our detailed blog here.
As one of the first partners to be approved on Zoom's Phone Provider Exchange program, Pure IP has been involved since the early stages of its development. We provide organizations with PSTN calling in 45 countries, and voice services in 137 using our own global cloud-based SIP network. Our customers get 24/7 technical support, a range of add-on managed services, and transparent pay-for-what-you-use pricing.
For more details on Pure IP's Zoom solution, click here.