With the recent announcement of new meeting and voice functionality for Skype for Business (S4B) being released with Microsoft Office 365, the migration of communications and collaborations to the cloud is making progress. In this blog we will take a top level look at how the 'bring your own carrier' solution works from a voice perspective.
Microsoft's premium Office 365 Enterprise Suite, Office 365 E5 offers a number of new features including S4B as standard and the optional add-ons of Skype Meeting Broadcast, Cloud PBX and PSTN conferencing. Generating a lot of interest in particular is the cloud PBX option. It eliminates the need for separate PBX systems for users, instead moving the functions of the PBX into the cloud. Businesses are then able to assign and manage phone numbers using Skype controls within the Office 365 console, as well as being able to dial-in telephone numbers for your Skype meetings.
What are the voice options with Cloud PBX?
There are two voice options available for users of Microsoft's Cloud PBX, these are:
Calls delivered by Microsoft as the provider
On premise PSTN / SIP connectivity via a local partner (e.g. Pure IP)

Microsoft PSTN Calling with Cloud PBX
The first option is to use Microsoft as the SIP trunk provider. With this solution, both the user and Cloud PBX are hosted in Office 365, with Microsoft providing the PSTN services. This option offers multiple business benefits, although it is worth noting that at present this option is only available in the US:
It is quick to get started
You only have to pay one bill for all your communications
All the latest updates are delivered automatically
You can pick new numbers or port what you have today
There is no need for any server software on-premise
It's easy to administer
It supports emergency services
On-premise SIP Connectivity
The alternative option is a hybrid solution where the Office 365 deployment can be integrated with Office 365 using split domain. Users log into Office 365 and services are delivered from the cloud, while voice and media remain local.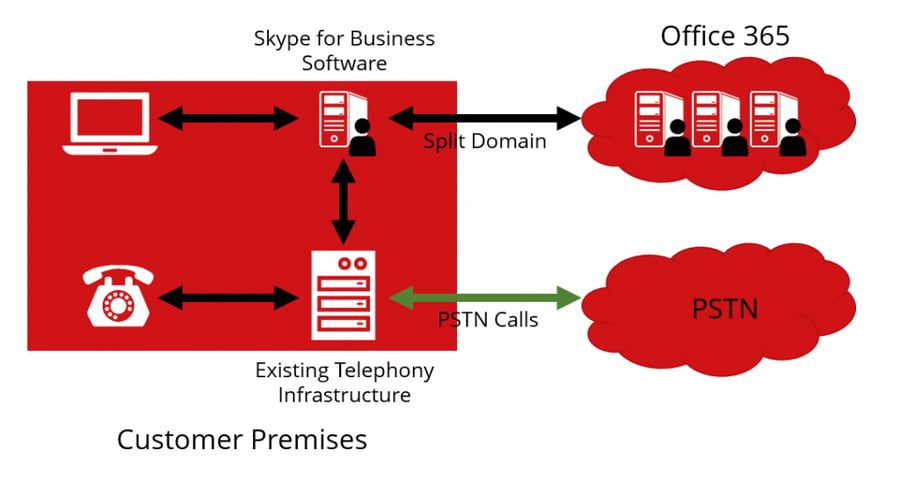 Again this solution also offers a number of benefits and is available worldwide:
You can retain your carrier contract, relationship and infrastructure
It's very simple to migrate users from on-premise to cloud (no need to port numbers)
Customisation in server deployment is preserved
Your onsite hardware footprint reduces significantly
You can retain SIP trunk reporting and CDR reports locally
It's available globally
Cloud vs On Premise for Voice
There is no right or wrong answer for keeping your voice locally or migrating to the cloud, however there are limitations with S4B feature sets and third party integrations that should be considered when evaluating the Microsoft calling option. The on-premise solution allows for greater flexibility and control for your company's voice solution. The hybrid solution is certainly worth considering as it allows E5 users the flexibility to migrate to the cloud at their own pace while retaining control over critical media paths. It is also the only option available for organisations outside of the US and there is no commitment at the moment from Microsoft to offer the online solution to other regions.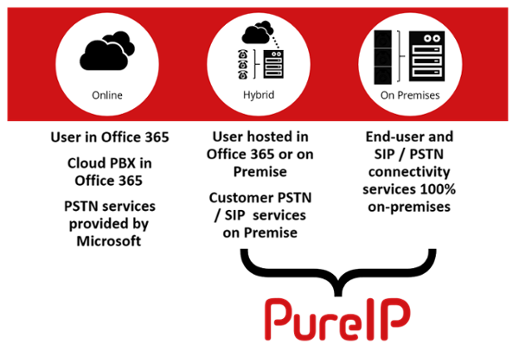 About Pure IP
If you opt for the second solution and receive on premise PSTN / SIP connectivity via a local partner, then it is essential you select a provider that is right for your business. Without the proper infrastructure, experience and customer service, you'll undermine the benefits of the new S4B functionality.
Pure IP is an international provider of voice services for enterprise customers seeking to unify their voice and data networks. We specialise in Skype for Business SIP trunks and have helped hundreds of organisations successfully migrate their voice services to IP. Our portfolio of services and international network reach ensures we can fulfil the key needs of the smallest to the largest multinational customers in one integrated network. Today we provide services to over 350 customers via nine global points of presence.
If you'd like to find out more about how we can support Microsoft's S4B Cloud PBX with on premise SIP trunks, click here to get in touch.