When we talk about geographic coverage in Operator Connect, we are referring to the countries where voice services are available using the approved carriers that you can see in the 365 Admin Centre. At the time of publication, this included the following countries:
Argentina

Australia

Austria

Belgium

Brazil

Bulgaria

Canada

Chile

Colombia

Costa Rica

Croatia

Cyprus

Czechia

Denmark

Dominican Republic

Estonia

Finland

France

French Guiana

Germany

Greece

Guadeloupe

Hong Kong

Hungary

Ireland

Israel

Italy

Japan

Kenya

Latvia

Lithuania

Luxembourg

Malaysia

Martinique

Mayotte

Mexico

Netherlands

New Zealand

Norway

Panama

Peru

Philippines

Poland

Portugal

Puerto Rico

Romania

Rwanda

Reunion

Saint Barthelemy

Saint Martin

Singapore

Slovakia

Slovenia

South Africa

South Korea

Spain

Svalbard

Sweden

Switzerland

Thailand

Uganda

United Kingdom

United States

Zambia

Zimbabwe
However, while that combined coverage might be impressive, it doesn't mean that every carrier can provide services in every country - in fact some carriers only offer services in a handful of locations. From a practical perspective, that might not prove especially convenient for multinational organizations, especially those that would prefer to consolidate their services to fewer suppliers so they are easier to manage.
Operator Connect does go some way towards simplifying this process, as you can manage all your Operator Connect phone numbers - regardless of the carrier - through the 365 Admin Centre. However, you will still have to manage a relationship with each individual carrier involving separate billing, technical support, and general operations. At Pure IP, our extensive network of full PSTN replacement services means we can cover over 70% of the total countries that are available on Operator Connect.
How do I select a country in Operator Connect?
Microsoft have made the process of selecting your required country of service very simple within the 365 Admin Centre. On the Operators page, select the relevant region(s) from the dropdown list, then review the carriers that can offer services in that country.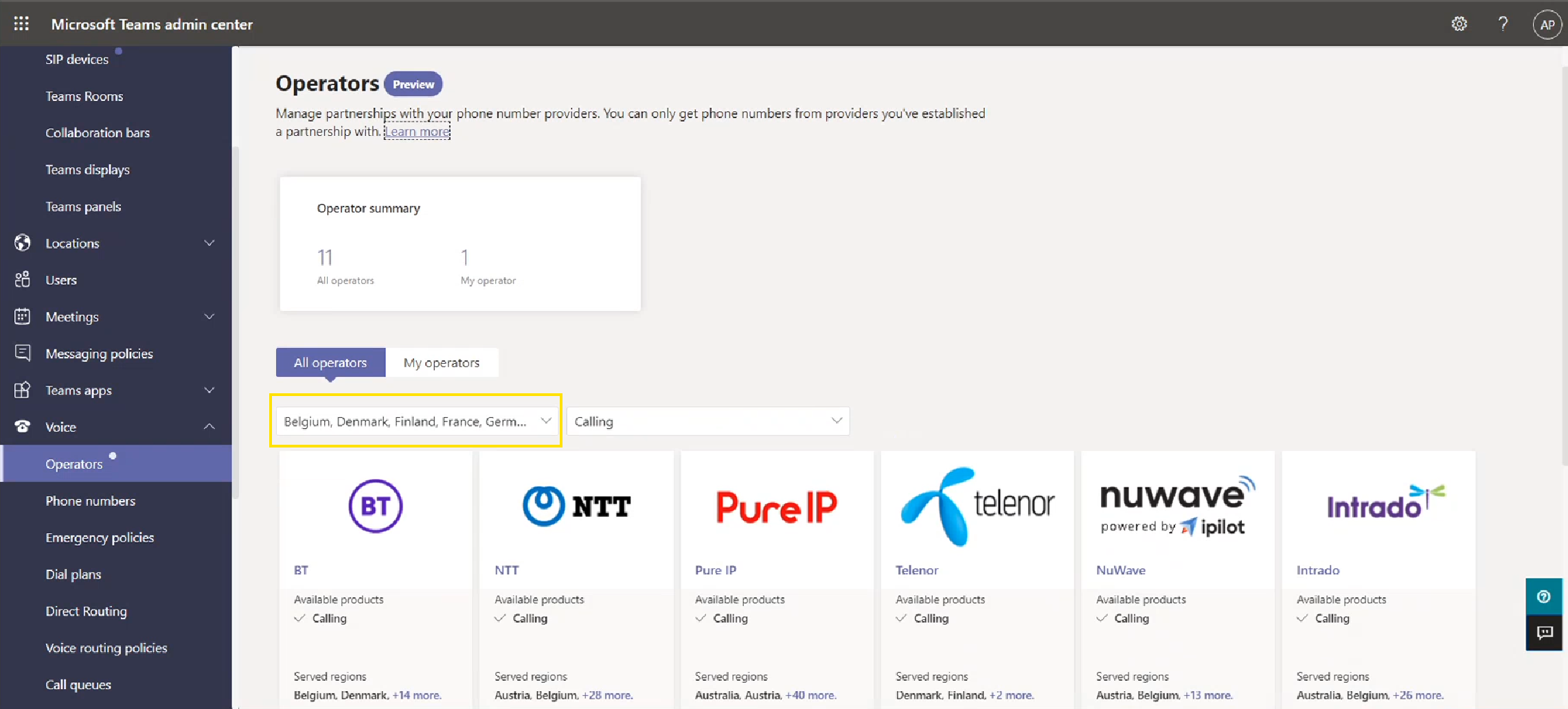 It is then a personal choice as to which carrier or provider you opt for. The only thing you will need to remember to do is complete the form at the bottom of the page and give consent to that provider so they can connect their services to your Teams tenant.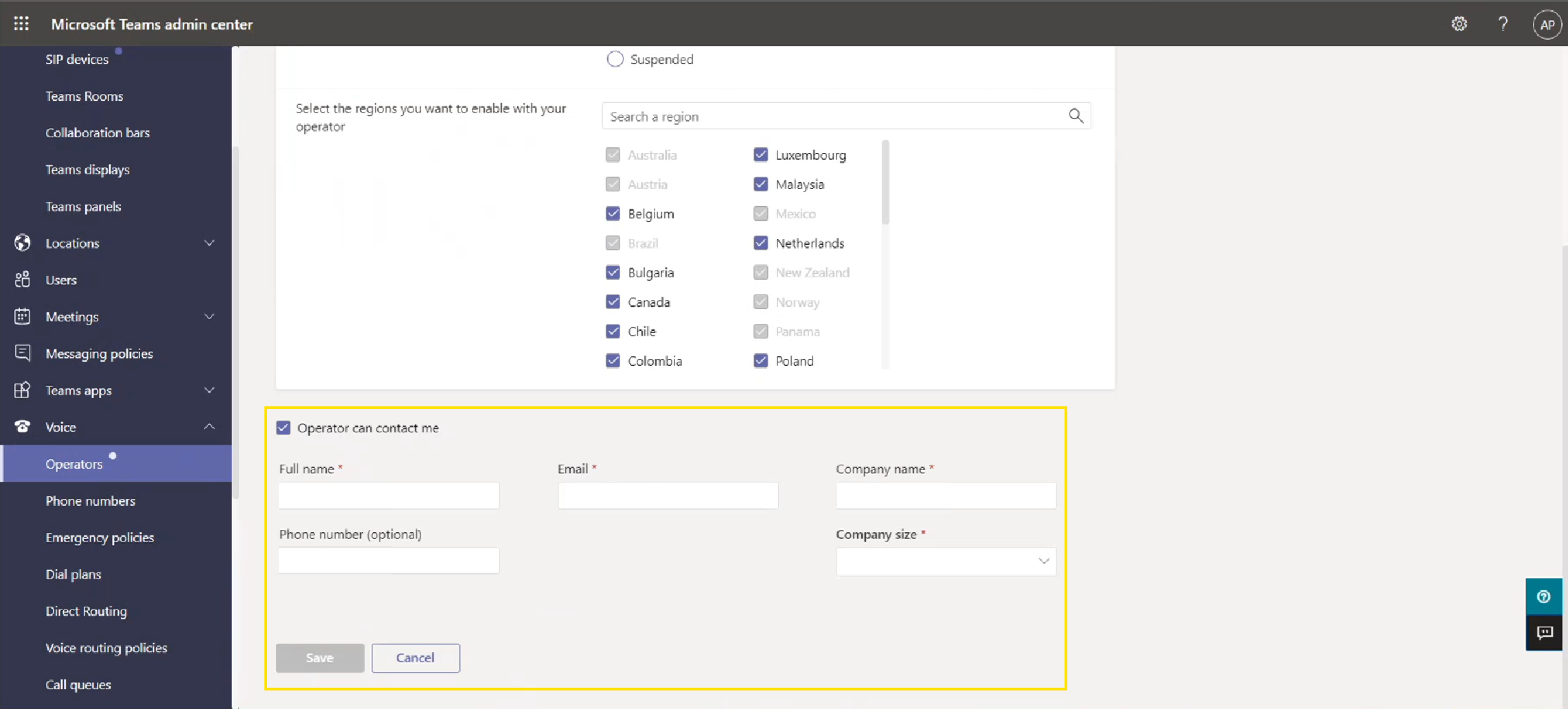 What if the country I need is not available in Operator Connect?
With nearly 200 countries in the world, there will inevitably be organizations that require services in countries not available through Operator Connect. So how do you get that extra coverage? Well, in essence you have three options:
Seek a provider and voice services from outside of Operator Connect, such as a Direct Routing provider.
Deploy your own Session Border Controller (SBC) using in-house teams, then connect to a local PSTN carrier.
The third option is a combination of the two. It involves finding a carrier that is on Operator Connect that can offer you additional services to facilitate connections to countries unavailable on Operator Connect, usually delivered using an on-premises SBC and Direct Routing. Pure IP, for example, has specifically designed an SBC Managed Service for this scenario. It involves deploying our own local, fully managed SBC in hard-to-reach regions, eliminating the need for customers to invest in additional hardware or in-house skills, or take on additional suppliers. This solution is offered as a handy addition to customers who have other services with us in our core countries, providing them with a more consolidated option.
Alessandra Skarlatos
Alessandra joined Pure IP as the Content and Communications Manager in early 2020, after 5 years within the cinema technology sector.