With less than 3 weeks left until Commsverse, we're excited to share our schedule of events with you!
Commsverse is one of the UK's leading Microsoft Teams conferences, and gives visitors unparalleled access to industry experts with real-world experience . Held virtually across three time zones this year between July 6th and 9th, you can visit our virtual booth to get your free ticket to over 200 sessions, panels, and presentations now.
As well as having our CEO, Gary Forrest, appearing on the Commsverse main stage for a panel discussion about the future of enterprise voice in the workplace, we will also be leading our own insightful sessions, packed with practical tips and insider knowledge about voice services.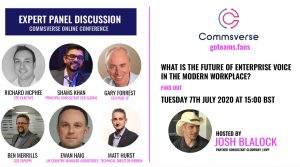 Our Microsoft Teams specialists have designed each of these sessions to provide businesses with all the tools they need to deliver successful Microsoft Teams projects and unlock the benefits of cloud telephony around the world.
July 8th 12:00 – 12:45 PM (BST)
Speakers: Alistair Pidd, Professional Services Director & Tara-Elese Galea, Operations Director
What are the key steps businesses should take to ensure a smooth transition of their enterprise telephony to Microsoft Teams using Direct Routing? We will summarize what they should consider before, during, and after deployment, and highlight how to integrate services from a voice provider. Register for this event >


July 8th 9:00 – 9:45 AM (BST)
Speakers: Ian Guest, Marketing Director
This session will outline the top considerations for service owners in tackling communications projects, including moving communications to the cloud (including Microsoft Teams), for specific voice related applications or replacement technologies including ISDN and PSTN. Register for this event >


July 8th 20:00 – 20:45 PM (BST)
Speakers: David Smith, Commercial Director & Diana Florea, Global Support Manager
The benefits of cloud telephony are clear but migrating all of your users can present challenges such as geography, service availability, application and user requirements. In this discussion, we will explore the realities of migrating 100% of your users to using cloud-based telephony with Microsoft Teams and provide useful guidance on some of the potential methods you can employ to overcome the hurdles you might face. Register for this event >
An increasing number of enterprises have been turning to collaboration and communications platforms like Microsoft Teams – which now has over 75 million daily users. As a Microsoft Gold Partner, Pure IP has extensive experience providing and supporting voice communications solutions in the Microsoft ecosystem, and our Cloud Enablement services have been created specifically to support customers with the migration of their voice services to the cloud.
Visit the Pure IP team at Commsverse to learn how we can help you migrate your voice services to Microsoft Teams and take advantage of the benefits of cloud telephony, up to 20x faster than other providers.