Once you've sorted your user calling, your Contact Center is often the next port of call. Or, likely, you're juggling both projects at the same time.
Here, you've got the decision of Call Center vs Contact Center. Ultimately, do you need advanced voice functionality to create an informal Call Center or do you need a formal Contact Center model?
Read more: Need to add your PBX to your Contact Center? Now you can!

Option 1. Native Microsoft Teams Call Center
With the Teams Phone Standard license, you enable call queuing and auto attendants. You can use these basic features to create your own inbound, informal call center setup.
Auto attendants can present callers with a numeric menu or voice menu. For example, press option 1 for sales or option 2 for support. Likewise, callers can say the reason for their calls.
In the Teams Admin Center, you have access to configure things like business hours, personalized greetings, and call flows.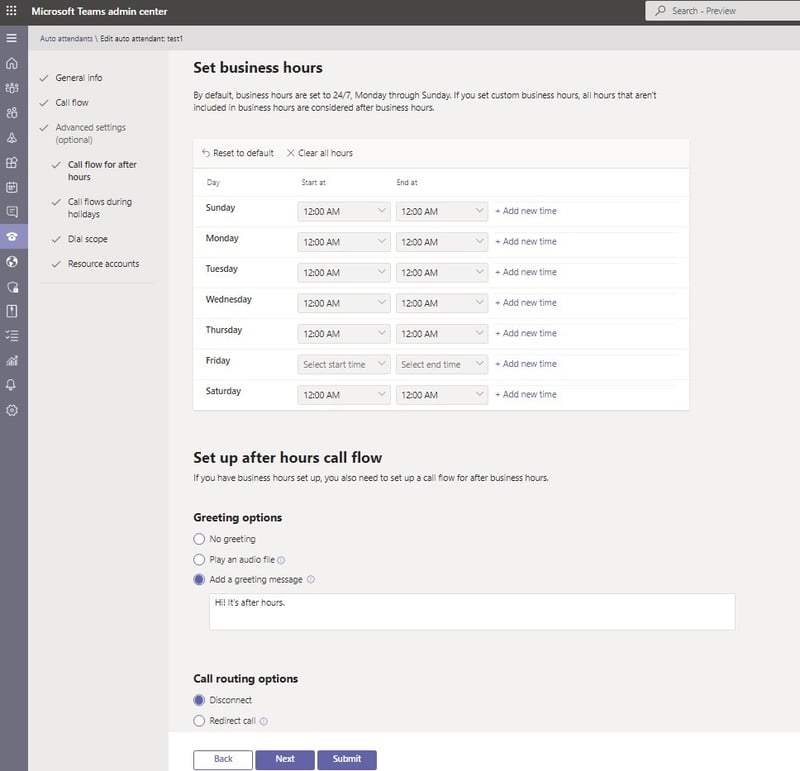 With call queues, you place callers in relevant queues based on your distribution plans. Inside these queues, Teams picks up agents' presence to ensure calls don't get routed to busy agents.
These voice options are the only options available Teams native call center setup. There are no omnichannel capabilities like web chat, email, or social media.
This is a neat, first-step solution, with basic call reports available via PowerBI.
If you need further channels or more advanced call center features, a third-party Microsoft-certified contact center provider is a better option.
Option 2. Microsoft Teams certified third-party Contact Center vendors
When you need features like real-time reporting, wallboards, skills-based routing, or any other advanced Call Center features, you're looking at third-party solutions to do the job.
Likewise, if your requirement is CRM integration, outbound calling campaigns, or PCI compliance, the native Teams Call Center setup doesn't support this.
Microsoft recognizes this too. Hence, the Contact Center certification.
In fact, Microsoft says, "For some organizations, Microsoft Teams' cloud voice capabilities, including auto attendant and call queues, meet their needs. For organizations that want solutions with business tools and workflows to drive the customer journey, Contact Center integration for Microsoft Teams allows Contact Center as a Service (CCaaS) solution providers to integrate their solutions into Teams."
You can choose any Contact Center to run over the top of Teams as your PBX.
But using a Teams-certified Contact Center means several things:
Your Contact Center works in all Teams endpoints (desktop, web, mobile)

Technical console options become available
Check out how Anywhere365 uses the Teams interface for calls, customer details, and even Twitter interactions in the screenshot below.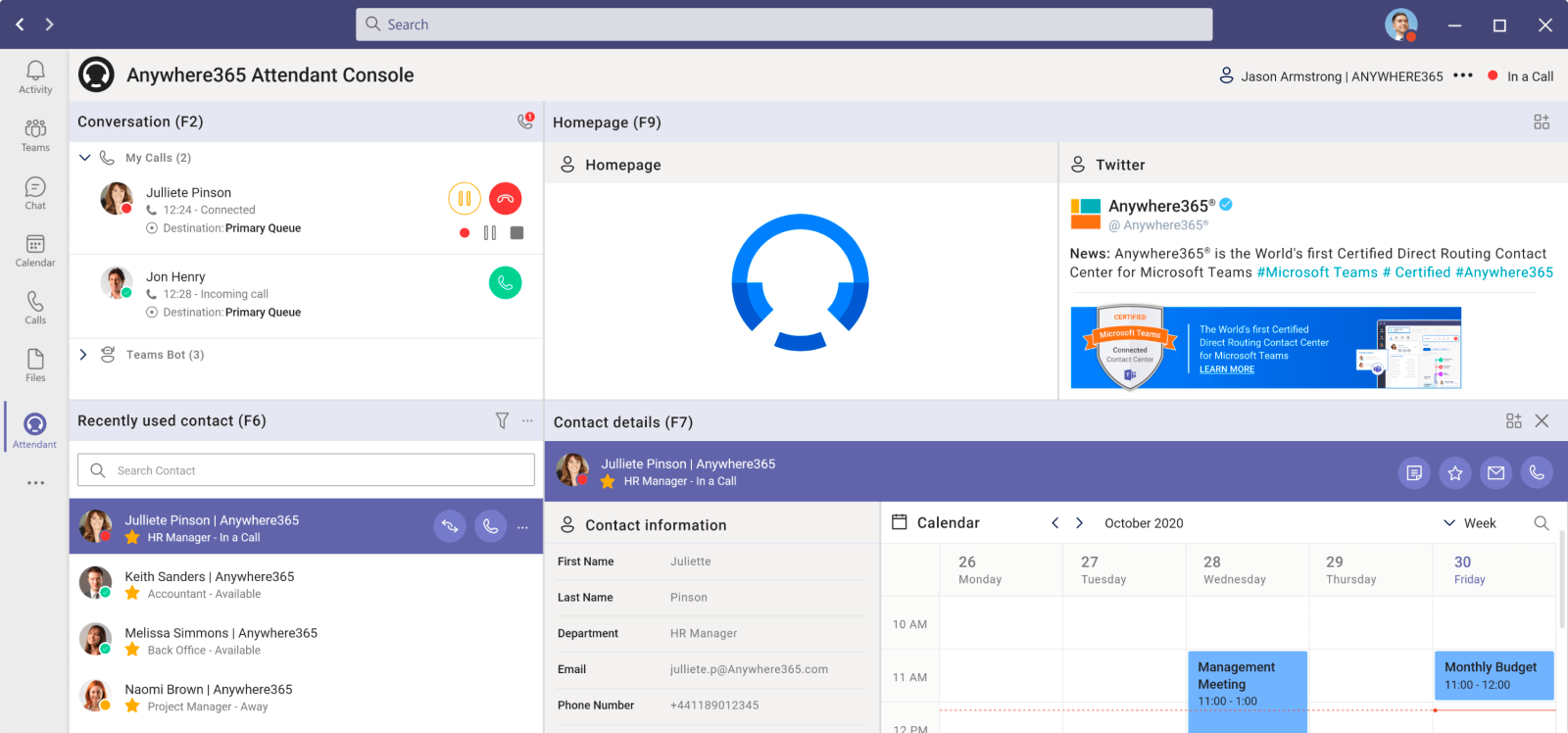 When you've made your choice of Call Center vs Contact Center, it's a matter of which vendor to select.
As of February 2023, there are 16 Microsoft Teams-certified Contact Center vendors:
8x8

Anywhere365

Competella

ComputerTalk

ContactCenter4All

Content Guru

Enghouse Interactive

Five9

Genesys

Luware

Mida Solutions

NICE inContact

Puzzel

ROGER365.io

Talkdesk

Tendfor
And a further 18 undergoing certification. Keep up to date with certified vendors here.
How to get started with Teams Calling and Contact Center
For some, the out of the box options Microsoft provides (Calling Plans and native Call Center) are enough. This self-service option presents a great option for small businesses or teams with a small number of Call Center staff.
If you need a more complex setup, like Operator Connect, Direct Routing, or even connecting your existing PBX to a Cloud Contact Center, Pure IP provides a variety of solutions tailored to your bespoke requirements.
For help with your Teams calling setup, book a call with our Teams experts.