Pure IP have today announced the acquisition of Server Centre, a cloud services company specializing in Microsoft technologies. The acquisition is part of Pure IP's plan for growth and will extend its Microsoft cloud enablement capabilities focusing Microsoft Direct Routing and moving telephony to the cloud.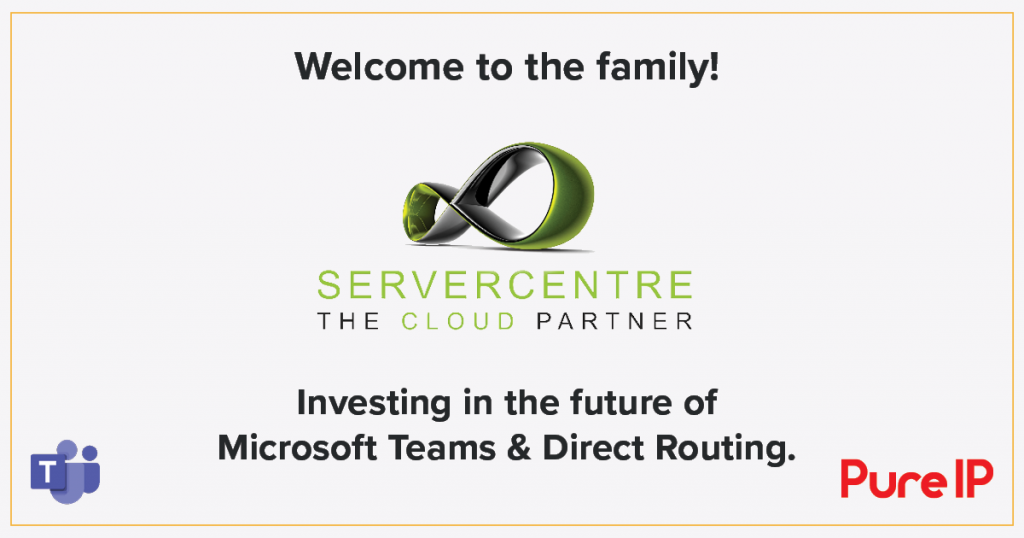 The growth in Microsoft Teams is well documented and Microsoft themselves are aggressively driving the adoption of the Teams platform for enterprise telephony. With reports of over 20 million daily active Teams users around the globe, the calling functionality remains one of the last frontiers in unlocking the full potential of the platform. Most analysts agree though that it is only a matter of time and that significant growth in the use of cloud telephony with Teams is just around the corner.
As an established and reputable voice services provider with its own SIP based voice network, Pure IP is already experiencing an increasing demand among customers for support with transitioning telephony into the cloud with Microsoft Teams. With many looking towards Direct Routing as the preferred model to meet their needs, this acquisitions places Pure IP in a good position to capitalize on the demand.
Gary Forrest, CEO of Pure IP states "We are seeing a significant increase in the customers who are already or planning to migrate their telephony to the cloud using Microsoft Teams. Many are looking at Direct Routing as the best option for their business due to the global nature of their requirement. The acquisition of Server Centre enables us to extend the voice services we already offer and provide customers with even greater support in helping them navigate and accelerate through the migration process."
Gary continues, "I am obviously delighted that we have been able to add the Server Centre capabilities and experience to the Pure IP team. Server Centre have been providing Microsoft focused communication services for over 12 years and have established a good reputation themselves for delivering a great service to customers."
Speaking about the deal, Dave Smith, Managing Director at Server Centre, said "We have had an excellent working relationship with the team at Pure IP for some years and there is a great fit between both businesses on a cultural and professional level. More importantly though, in a time when technology is changing so fast, this deal enables us to extend the services we can provide to our customers, ensuring we are best placed to help protect and optimize their investment."