When implementing your Cloud Contact Center, there's often a vital element everyone misses until it's too late.

It's not web chat. It's not email. It's not even social media.

And, no, we're not talking about artificial intelligence either.

Instead, we're going to focus on voice. Your PBX. The telephone connection to the outside world. This might be installed in your office or server room, or maybe you've moved it to the cloud.

Wherever it's hosted, it makes up for a large portion of business communications.
Did you know that voice is still the preferred method of communication for 44% of US customers? That increases to 57% in Germany.

Thankfully, due to the advancements in cloud technology, it has never been easier to add voice to your Cloud Contact Center.

Before we jump into the why and how of integrating your phone system to your Cloud Contact Center, it's important to establish boundaries between the two.
What is the difference between Contact Center and PBX?

A Contact Center is the interface your customer service, support, or sales agents use to manage customer interactions.

In the age of digital communications, Contact Center is usually deployed as software via a cloud, as-a-service model. It supports channels like phone, email, web chat, social media, SMS, and video.

A PBX is the phone system used to make calls to the outside world. There are many options for a cloud phone system but some are still installed on-premises.

These on-premises phone systems must be connected to a physical phone line (PSTN, ISDN) or SIP trunks via a third-party device.

PBXs can only make phone calls and don't support any other channels.

Here are the main differences between Contact Center and PBX …
| | |
| --- | --- |
| Contact Center | PBX |
| Serves multiple channels | Voice only |
| Cross-channel reporting | Voice-only reporting |
| Mostly cloud-based | Often on-premises |
| Supported and maintained online | Needs site visit for repairs |
| Easy to scale licenses | Needs extra hardware to expand |
While there are clear differences between Contact Center and PBX, most businesses need to use them together.

To make and receive phone calls via a Contact Center, you can either use your Contact Center providers offering or bring your own.

If you already have a PBX, it makes sense to leverage your existing asset. But, if your phone system is on-premises, and you've just invested in a new Cloud Contact Center, you need something to connect the two together.

Likewise, some cloud PBX's will also need that middle ground element to connect it to your Contact Center.

That's where SIP comes in.
What is SIP in Contact Center?
SIP stands for Session Initiation Protocol. SIP trunks are the channels that enable you to transfer voice packets over the internet.

In a Contact Center setting, we use SIP to route calls between a PBX and a Cloud Contact Center. Think of SIP as the transportation and translation gateway to the cloud.

How SIP Trunking works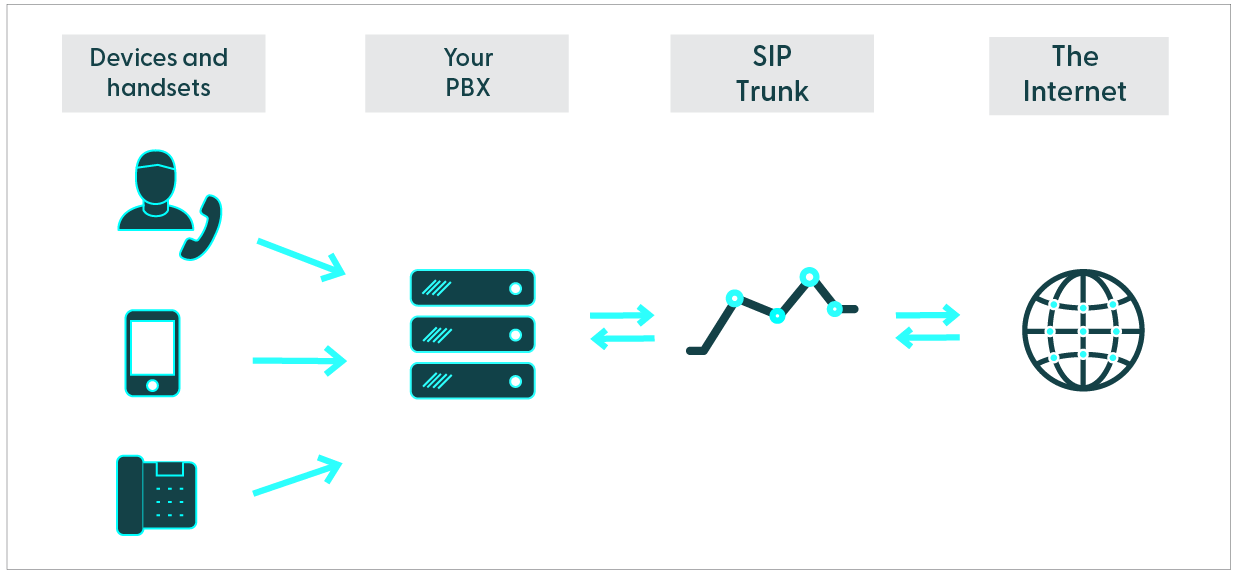 Let's look at the reasons why you should add your existing voice setup to your Cloud Contact Center. Then, we'll move onto the how.

Why add voice to your Cloud Contact Center?

Even with the wide range of ways to now communicate with a business, 75% of consumers still believe that humans provide the best customer service experience.
Voice communication provides a personal touch, enables real-time interactions, and allows for greater flexibility for customers.
With the added benefits of cloud technology, your Contact Center, coupled with voice capabilities, can provide an enhanced customer experience and improve the efficiency of your team.
When discussing the benefits of adding voice to your Cloud Contact Center, we often mention things like:
Increased customer satisfaction
Better call routing
Faster return on investment
More and better analytics
Greater flexibility
But what is almost always missed out is the impact on your phone bill.
How integrating your PBX and Contact Center cuts costs
When you roll out a Cloud Contact Center and need to connect calls between your phone system and Contact Center agents, you incur a calling cost.

When you have an on-premises PBX, every time you pick up the phone (unless it's an internal extension), it costs you money.

Sure, you might have a call bundle. But there's a limit on that.

As there's no integration between your PBX and your Contact Center, you can only make a connection (a call) by using the phone network. And, if your phone provider and Contact Center provider aren't the same, this means a new phone call.

There are two alternatives to incurring a call charge every time an agent picks up the phone:
Use a provider who provides both telephony and Contact Center: In some cases, they can enable a cross-connect between voice and Contact Center, meaning free calls.


Add a SIP connector to route your existing PBX calls to the cloud
In both cases, you're moving your calling to the cloud. So, everything becomes "on-net" and there's no call between the PSTN and the cloud. Hence, no call charges.

If you're not with a cloud provider who looks after both PBX and Contact Center, here's where Pure IP can help …
How to connect your PBX to your Cloud Contact Center

Using SIP trunks, you can route calls from your PBX to your Contact Center. But you're going to need some help. You need a cloud provider who provides SIP trunks, first up.

Then you need to make sure they have completed interoperability testing with your chosen Contact Center provider.

It is possible to integrate any PBX with a Contact Center via SIP. But untested platforms may result in unsupported features and delayed deployment.

If you're an existing Pure IP customer, or you migrate your numbers to our network, you can integrate Contact Center platforms like:

• Microsoft Digital Contact Center
• Webex Contact Center
• Enghouse
• Five9
• Genesys
• Geomant
• Luware
• Nice InContact
• Anywhere 365

As we're vendor-agnostic, it really doesn't matter who your Contact Center provider is.
We also have availability across US, Europe, Australasia, and Asia. So, you can finally get all your numbers and telephony under a single provider.

If your telephony is with several providers, it's even possible to mix and match. For example, you might have some offices using Webex Calling and another using Microsoft Teams Phone.
In the example where you use Teams for calling, you can keep the Teams interface for calling and let Pure IP look after the number on the back end.

Pure IP is a longstanding Microsoft partner and one of few partners that provides both Operator Connect and Direct Routing across a number of regions.

Our Contact Center Connect platform brings all your numbers together, regardless of platform.

In many cases, we use pre-configured multi-tenant trunks to reduce complexity and speed up the provisioning process.

For new platforms, or when SIP isn't supported on a multi-tenant platform, we can conduct one-off interoperability testing.

All we need from you is the number of SIP channels you need, a unique identifier, and off you go.

The rest is down to us.

We do the hard work and you start making calls from your platform of choice.